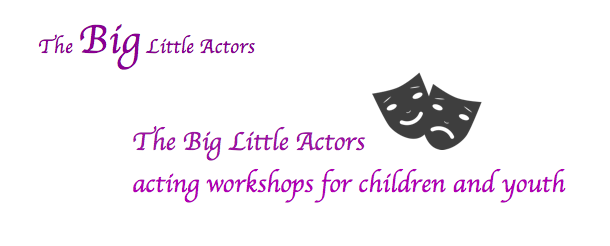 Proudly part of La Culture à l'école program
Great new artical about the workshops:https://www3.cspi.qc.ca/cspi/publications/nouvelle/une-facon-differente-d-apprendre-l-anglais-a-l-ecole-denise-pelletier
You can read an interview with Tina for ESL Blogs:http://blogdev.learnquebec.ca/eslcommunity/archives/1001
TESTIMONIALS:
Daniela Fundaro, drama teacher, John Paul I High School (EMSB):
"The Big Little Actors" with Tina Milo was fantastic. The students learned how to use their bodies without exaggeration. They were able to expand on their knowledge from the classroom with a professional, and the students loved having her in the class. They were able to do improve, use masks, and use games to help improve their skills. I would recommend using Tina Milo for the future, as she is knowledgeable, applies information well, and extremely easy to deal with. It was a great experience for both the students and the educators".
Roxanne Paquette, Intensive English teacher, St-Louis-de-Gonzague School (CSDM):
"Today's acting workshop was an absolute delight! Tina knows how to connect with students and stimulate their creativity. It is such a joy for me, as a teacher, to see the "quieter" students blossom into expressive actors. This workshop not only teaches the class to act, it helps them acquire new English vocabulary. Throughout the workshop, students are required to move around which is great for kinesthetic learners. The scenes the group must act out depict authentic situations and this authenticity is primordial in second language learning.The workshop was for a whole day and it was very complete. It covered body language, facial expressions, mimes, improvisation, written scenes and theatre vocabulary. On top of that, Tina included the history of theatre mask in the world, which really interested the students. I would recommend this workshop; it is educational and the class loved it! It is a win-win situation for any teacher."
Michelina Di Lorio, Anglais Intensif teacher, École St. Isaac Jogues (CSDM):
"I want you to know that my students really enjoyed their day. They liked the role-playing and the games. They especially loved the role-playing with the masks.They wrote that you are active, awesome and cool. Some said they learned a lot about drama and one student said she didn't know theatre was so much fun. Another student said he learned a lot about masks from different countries and about what actors do. Another student said she learned how to use her body to express her feelings and react. Many wished you could come back again. I would officially like to thank you. I also had a great day. I saw my students in another light."
Karine Lussier, école Louis-Colin (CSDM):
"In April, we had the opportunity to welcome Tina to our class for a day workshop. My students were English intensive grade 6 and we did all three workshops on the same day. As soon as students arrived, Tina took care of the group and animated. I stayed in the class all day, because it was interesting for me as well! I learned a few tricks on how to implement Drama in the English classroom. Students were really enthusiastic and participated all day long in the varied workshops. Tina was well prepared, with pictograms among other things, for weaker students to understand her exercises. She is a dynamic presenter and she has great class management skills. Afterwards, I discussed the workshops with my group and the comments were all positive. We even integrated some of the activities we experienced during that day in our weekly planning. It appealed to all students, boys or girls, Drama oriented or not."
Demetra Angelidis, Cycle 3 year 2 teacher (grade 6) Gardenview School (EMSB):
"We had a wonderful experience with The Big Little Actors. Tina was very well prepared and very good with the students. The children learned and explored a lot and they really enjoyed working in their scenes together, at the end of every session. Not only did we find that it prepared them for drama, but in their writing too. It is very important to have the audience feel like you're happy, or trying to solve a mystery....It is a very worthwhile Language Arts activity. Hope to see her soon!"
Ms. Debbie Rose, grade 5 teacher Gardenview School (EMSB):
"I would like to thank you for taking the time to come to my class to give the drama lessons to my students. The children had a lot of fun and really enjoyed the experience. It was amazing to see children who were usually shy participate in these activities. Thanks again:)"
Available dates and more info: Ova adresa el. pošte je zaštićena od spambotova. Omogućite JavaScript da biste je videli.
"Musicalization" of the character (voice for actors master class)
Combining her classical music education and acting training, Tina created her own voice technique that involves intense warm-up of the vocal resonators using a special way of breathing that helps actors endure extensive vocal demands. In her Master class, you will be also introduced to a "step by step" process of creating a character by using different musical rhythms and tempos combined with an improvised physical score.